Office Cleaning Solutions For Your Business In Pimlico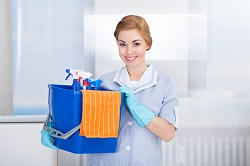 Why Commercial Cleaning Services are Important


At Carpet Cleaning Pimlico, we understand that the presentation of your office is a reflection of your business. When you show clients, partners and suppliers around it can give them an instant impression – and it should be the right one! This is why hiring a quality commercial cleaning service could be so beneficial; regular maintenance can completely transform a work environment, not to mention leave a great lasting impression.

Our commercial cleaners understand that time is of the essence when it comes to deep cleans and even maintenance on a regular basis. Our Pimlico-based teams can swiftly and efficiently provide quality service without hindering or disrupting the workflow of employees. We know that our clients have their own businesses to worry about, so we make sure to do our job with as little disturbance as possible.

We also use eco-friendly products in our services; protecting both the environment and everyone within the building. You'll be doing something positive for the planet while also removing germs and dirt from your premises!


A Comprehensive Service


At Carpet Cleaning Pimlico, we strive to be more than just a commercial cleaner. Our team provides guidance and support throughout, giving you advice on which products can make certain areas more hygienic and easy to clean in the future. For example, if you're looking for an anti-bacterial solution for high traffic surfaces such as tables, chairs and door handles then we'll provide suggestions on what would work best in those areas.

We appreciate that no two businesses are the same – every office has different needs when it comes to cleaning – so tailoring every package for each individual company is something we pride ourselves on achieving. No matter what sector or industry your business falls into, there's always a way for us to help you!


Book Today

Your time is precious and efficient cleaning should never infringe upon it. That's why, at Carpet Cleaning Pimlico, all of our services are designed to be flexible and fit around any timetable, ensuring that every client gets exactly what they need with minimal disruption. Your dedicated account manager will always be on hand to answer any questions or queries regarding our wide range of services too!

If you want your office to look spick and span then contact us today on
to book a great office cleaning service with us!