No Pimlico Upholstery Cleaning Task Is Too Difficult For Us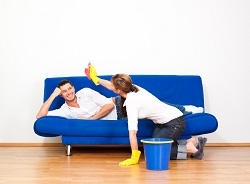 We Are The Best Source For Upholstery Cleaning Services


At Carpet Cleaning Pimlico, we take pride in our upholstery cleaning services. Our team of professional cleaners in Pimlico is highly-skilled and experienced in delivering excellent results to clients throughout London. We believe that our customers deserve the best quality service and that cheap prices should not mean a drop in quality.

Our sofa cleaning services are second to none and we use only the highest-quality, eco-friendly cleaning products. This means that you don't have to worry about your furniture being damaged or exposed to harmful chemicals. Plus, the powerful suction created by our state-of-the-art cleaning equipment removes dirt, dust, and other particles quickly and efficiently, leaving your furniture looking as good as new!


Benefits Of Working With Us


When you hire us for upholstery cleaning services, you can rest assured that you will be getting top-notch service from dedicated professionals. We take the time to understand the unique needs of each client and tailor our services accordingly. What's more, we offer competitive prices and there are no hidden fees or charges with any of our upholstery cleaning services. Furthermore:



High-Quality Results: Our team of expert upholstery cleaners is highly trained and always delivers high-quality results.
Flexible Scheduling: We understand that life can be hectic which is why we offer flexible scheduling for all of our services.
Convenient Payment Options

: We offer various payment options including credit/debit cards, cash, and PayPal.
Customer Support: Our customer support team is available 24/7 to answer any questions or concerns you may have.
Contact Us Today!


If you're looking for reliable upholstery cleaners in Pimlico or anywhere else in SW1 then look no further than Carpet Cleaning Pimlico. We offer an extensive range of upholstery cleaning services at competitive prices so you can get the results you want without breaking the bank. To learn more about what we do or to get a quote for your project, feel free to contact us today. You can also call us at
if you'd like to speak with one of our knowledgeable representatives directly.